Wood Tiny Houses of Quadrapol : a sustainable and autonomous habitat that blends in with nature
Wood, a renewable material with multiple advantages
We talked a lot about forests, of their important role for biodiversity and of plentiful ecosystem services returned by trees to society. In this article, we want to extend our analysis and explore woods, of all its benefits and a very original use of this noble material, the most universal and the oldest there is : Tiny Houses in wood !
Wood from sustainability managed forests is firt and foremost a natural and renewable material, since the trees grow back, by natural regeneration or by planting, in order to maintain rich, resilient and constantly renewing forests.
Above all, the wood used as a material prolongs the work made by the trees and the CO2 absorbed and stored by the trees. When transformed to make beautiful carpentry, furniture or wooden houses, wood continues to store the CO2 it contains throughout its duration of use. We even know how to calculate the stored CO2 depending on usage profile of wood product  !
And that's not all, because the wood material, used instead of other materials of fossil origin like PVC or high CO2 emitter such as concrete, has a substitution effect, its production emitting much less CO2.
Sustainable and autonomous wooden houses
Highlighting the use of wood, combining durability, CO2 storage and a substitution effect, this is what the company does Quadrapol specializing in the construction of specializing in the construction of high-end wooden houses an autonomous wooden micro-houses, made from wood from sustainably managed forests and PEFC/FSC certified.
Both designer and builder, Quadrapol has been present everywhere in France for more than 12 years, to popularize wood frame housing. The company also wants to show that it is necessary, especially today, toadopt this ecological and renewable resource that is wood.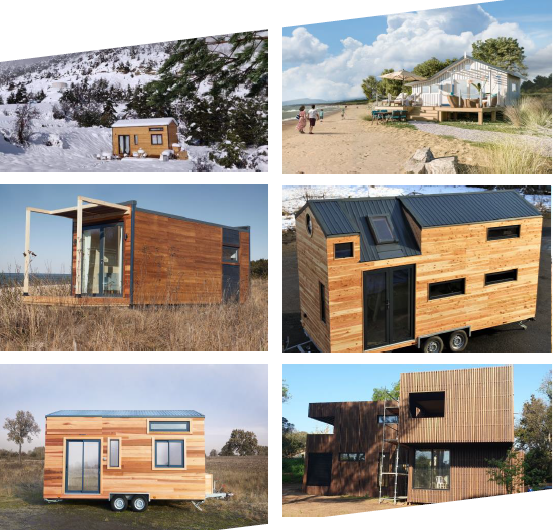 Their architects and engineers developed in 2014 a unique offer of  garden studios and Tiny Houses, small houses on 20 m² trailers, both mobile, ecological and practical, which can be taken anywhere. 
We loved the Colibri model, with its living room and 2 mezzanines that can accommodate 4 people. In addition to using wood, this house also makes it possible to switch to  very low energy consumption with several autonomy options. A complete autonomy kit makes it possible to integrate a hybrid photovoltaic panel system, to produce its own energy.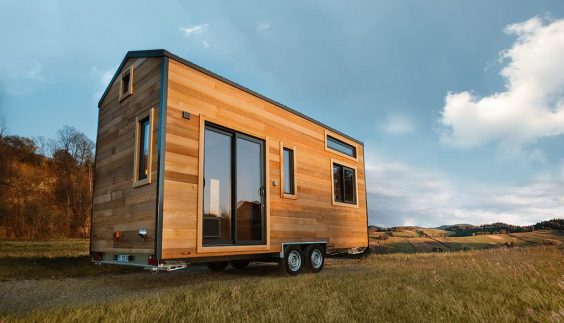 This Tiny House even offers a rainwater collection system for total water self-sufficiency, a water flow regulator and even a natural filter system to treat gray water. In addition, dry toilets with sawdust are integrated, a solution that is both ecological and practical to save nearly 30% of water.
If you want to extend the process of using wood as renewable resource, it is possible to integrate a beautiful wood stove for winter evenings, although wood is already a very good natural thermal insulator and an axcellent bulwark against the cold !
The ecological approach is complete between autonomy and sustainability, whether at home or on hollidays to blend into a natural landscape !